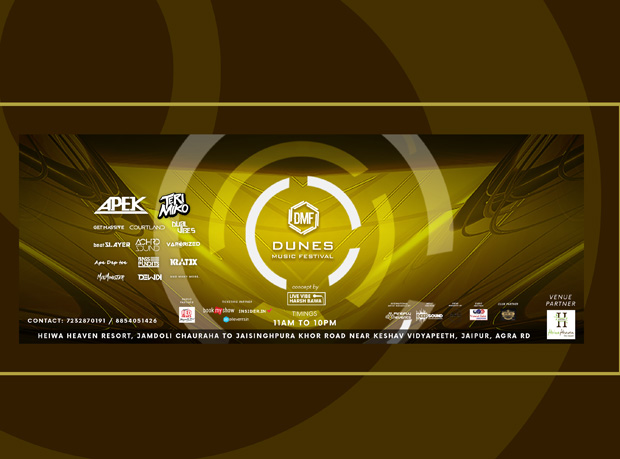 Attributes: Events
Jaipurites get ready as this Christmas Heiwa Heaven Resort brings to you Dunes Music Festival, a party paradise, a festival where the sun ever sets and the music never stops! BOOK NOW- 7232870191/ 8854051426
A 24 hour music festival that will host big name artists, stellar stage and some fab vibes for all the fun-loving visitors who look for an unforgettable experience. Be a part of this carefully curated festival that includes much-loved DJ's and everything else in vogue, book your tickets now!
Jaipurites this festival will be the greatest place to get day drunk on swanky beer this 24th December at Heiwa Heaven Resort! You are today promised a world of fun, drunk memories and unimaginable entertainment.
But first we have a question to ask, ARE YOU READY? Prepare yourself as Dunes Music Festival reaches your city in 24 days!
#Letsdothedunes #24Dec
DUNES MUSIC FESTIVAL
Early Birds Tickets Book Now
Book my show – http://bit.ly/dunes_BMS
Insider – http://bit.ly/dunes_insider
Allevents – http://bit.ly/dunes_allevents
Contact: 7232870191/ 8854051426
Venue: Heiwa Heaven Resort
Date: 24th December 2017
Original Source: https://goo.gl/mvQfpX