Indian summers are thought to be harsh and unforgiving characterized by scorching heat, sweat, and power cuts. However, at Heiwa Heaven Resort you can keep all these worries aside and enjoy pleasure filled summer vacation that is a perfect 10. We are offering a variety to make your trip a memorable one. With us, you can enjoy a luxurious stay, adventure sports, and relaxing spa under roof.  We have all got it covered.  You must be wondering what you should do to check in at our place. Well, it is simple. All you need to do on your part is opting for summer special packages in Jaipur and you will be good to go.  We will do the needful to ensure that your summer holidays become an occasion to be remembered.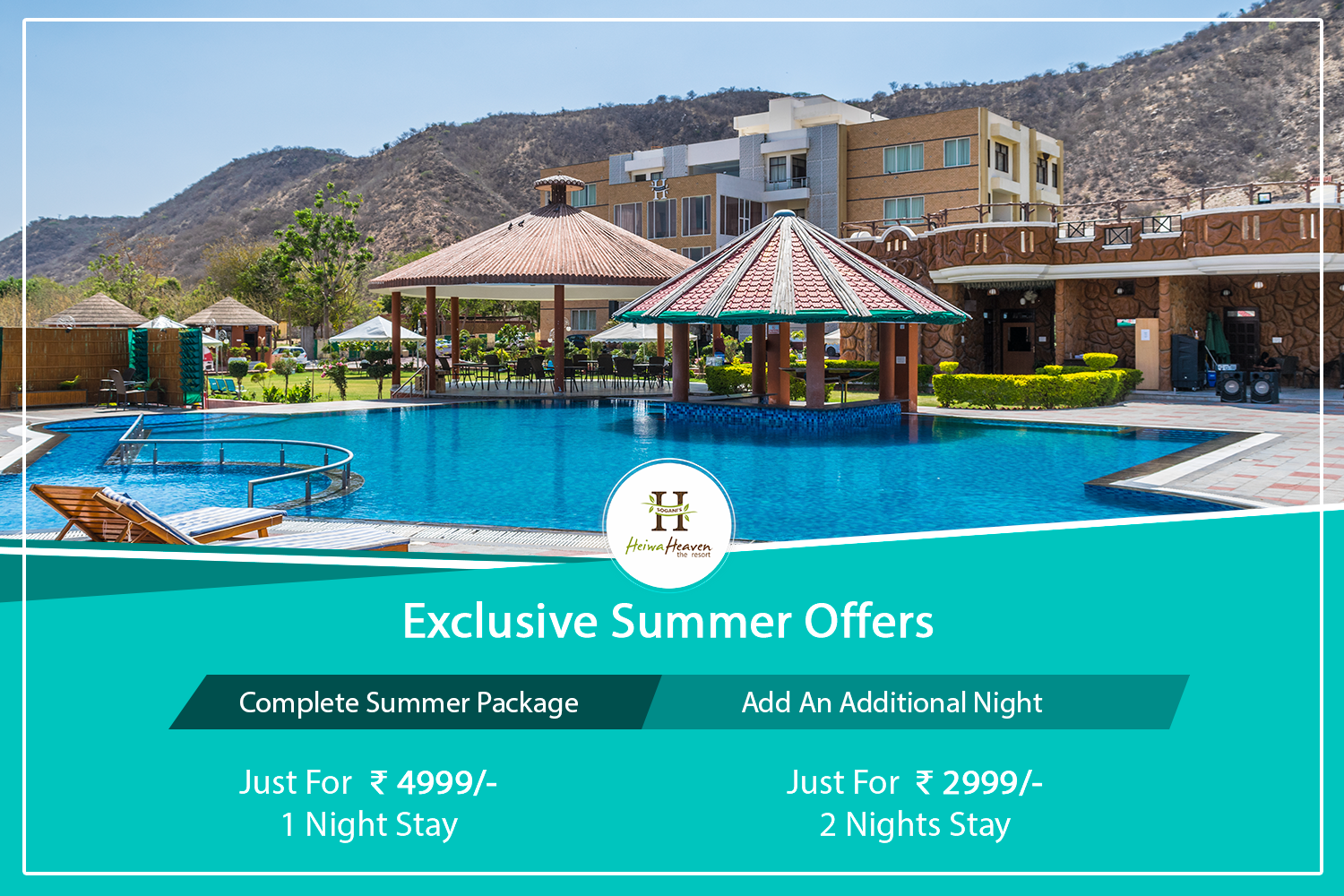 Our exclusive summer holiday package Jaipur is now available at just Rs 4999/- where you can spend 1 night and 2 days in our luxurious abode.  This package is unique where you will get the opportunity to enjoy a luxurious stay under the lap of Aravallis. Guests checking in at out resort under this offer will receive a grand reception and we have put in place the best services to ensure that you have a peaceful and comfortable stay with us.  Once you check in, we will refresh you with soothing welcome drinks that will energize and make you ready to enjoy the thrills and fun to wait for you.
We understand that venturing outdoors in wee hours of summer can be quite painstaking. Who will want to get drenched in their sweat in the quest of having a delightful meal? Well, you do not need to explore outside eateries. We will serve you delightful cuisines that will satisfy your taste buds and relieve your hunger pangs.  To make your summer vacations in Jaipur delightful we are offering you complimentary breakfasts on all days of your stay.  Nirvana Woods is our authentic pure vegetarian restaurant where we will serve you all the meals.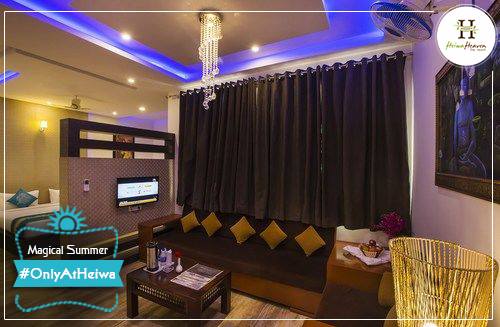 If you are traveling with your family the new have the perfect set of arrangements to make your stay filled with fun and lot of delightful activities to pursue.  Our family summer packages in Jaipur host a wide range of adventure activities for you that include the thrilling Zip Line, fast-paced Quad Bike, Zorba, Moto Cross. If you have little kids traveling with you they will simply love to have a good time riding the dirt bikes and it will surely delight your hear and bring a smile on your face watching your kids enjoying getting soiled having a good time around. If you are fond of crossing obstacles and exploring difficult terrains then the Hurdle Bridge will surely keep you engaged as a delightful time pass.
If you have made up your mind to spend this year's summer vacation with family in Jaipur then how can you afford not to have a good time in the pool? Our gorgeous swimming pool is perfect for taking a splash at any time of the day. If you are making your maiden journey with a person of your dreams then we have the best facilities to keep you enthralled. With our Jaipur summer package for couple, you will have a memorable time rain dancing with DJ. Well, the fun does not end here. The ship of the desert is eagerly waiting to give you a ride in its humpy back.  We are one of the few resorts where you can enjoy a Camel cart ride. To end it all delightfully after a long day you can wind off all your exhaustion and comfort those aching muscles with complimentary head to foot massage (one person per room).
Our summer holiday package in Jaipur has two variations. You can choose any one as per your preferences. These are:
Complete Summer Package
Add an additional night
Our complete summer package is a one night stay for Rs 4999 only. However, if you love our place and wish to spend some more time then you can add one extra night just for Rs 2999 more.  Irrespective of the package you choose the facilities and amenities in offering remains the same. Our summer package is valid from 1st May to 31st July and it includes
Welcome Drinks
Breakfast
All Meals at our Authentic Pure Vegetarian Restaurant- Nirwana Woods
Hi-Tea
Access to Game Zone
Access to Swimming Pool
Access to Rain Dance with DJ
Camel Cart Ride at The Resort
Adventure activities for 2 persons ;includes- Commando Net, Commando Crawling, Tyre Climbing, Tyre Bridge, Burma Bridge, Double Rope Bridge, Bouncy for Kids, Sandpit, Zip Line, Zorba, Quad Bike, Moto Cross Dirt Bike and Hurdle Bridge
Hurry up! Offer is limited so book your reservation today.