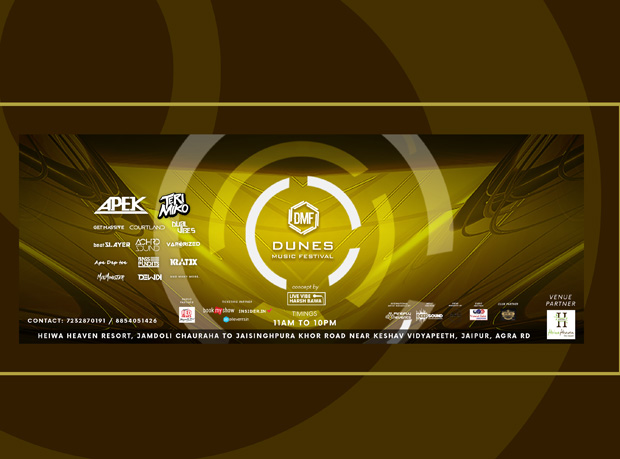 Attributes: Events
ATTENTION: Here's your one and only to play at Dunes main stage. Dunes Dj BATTLEGROUND is coming soon to your college in Jaipur in support of Heiwa Heaven Resort. Register yourself now- http://bit.ly/2hN3IMY
If you're a DJ looking for that first big gig and would like to make a full time living out of this game then DMF battleground is the place for you to be! Aspiring Dj's from Jaipur are invited to participate at Dunes Music Festival battleground and show their mixing and mash up skills to the largest crowd of the city.
What's in store for you?
DJ slot in the DUNES MUSIC FESTIVAL line up!
6 months contract with SAS Entertainment!
A Chance to play with Saturday night prima Club*
Goodies
And of course, fame and popularity to begin with!
The battleground will be taking place at various colleges of Jaipur from 28th NOV -2nd DEC, so prepare yourself for the biggest war of DJ's!
Dunes Music Festival, a 24 hour long celebration supported by Saturday night Prima will be the last hurrah for the year 2017! Live music, professional Dj's, boozy nights and drunk memories awaits you at Heiwa heaven Resorts. Get your tickets now! http://bit.ly/dunes_insider
DUNES MUSIC FESTIVAL BATTLEGROUND is coming soon!
DUNES MUSIC FESTIVAL
Book my show – http://bit.ly/dunes_BMS
Insider – http://bit.ly/dunes_insider
Allevents – http://bit.ly/dunes_allevents
Contact: 7232870191/ 8854051426
Venue: Heiwa Heaven Resort
Date: 24th December 2017
Original Source: https://goo.gl/C86hHv